Americans for the Arts, Arts Action Fund Alert!
(Use this link to share with others)
Tax Bill Completed
Late Friday, December 15, 2017, the congressional tax conference committee completed its work to write a final tax overhaul bill that melds together components of the House and Senate tax bills. Votes are expected on Tuesday, with the President signing the legislation into law soon thereafter. Will you take two minutes now to tell your member of Congress how this will impact you and the arts?
The vote is so close that Vice President Mike Pence has adjusted his travel schedule to be in Washington, DC, in case his tie-breaking vote is needed to pass the bill since two GOP Senators are currently out on medical leave.
Charitable Giving Expected to Take a Hit
As we reported earlier, in a rush to pass far-reaching tax reform before year-end, both the House and Senate advanced tax bills that would have a very negative impact on charitable giving. Despite some researchers anticipating a loss in charitable giving of almost $20 billion annually as a result of the new tax bill that will significantly reduce the number of taxpayers who can still itemize deductions, top GOP Congressional leaders still believe that a strong economy will make up the difference. It will be important for the charitable community to document the true impact over the next 18 months.
We will continue to work with Rep. Mark Walker (R-NC) and Senator James Lankford (R-OK) to advance a Universal Charitable Deduction in the new year since it was not included in the final conference bill to be voted on this week.
On a positive note, there were several other menacing provisions in the House and Senate bills that were omitted in the final conference bill that would have caused problems for nonprofit charities, particularly arts-related groups. The chart below summarizes the outcomes from the three versions of the tax bill that Americans for the Arts and Arts Action Fund has been lobbying.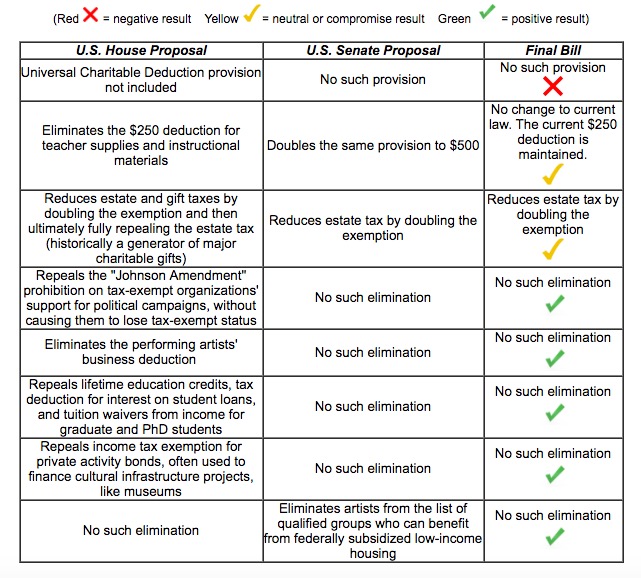 What's Next:
The House and Senate still need to vote on this final bill. You can still impact your representatives' voting decisions. Take two minutes now to be sure your member of Congress knows how the bill will impact the arts, and how its various provisions will affect you or your work.
Be assured, should the legislation pass and be signed into law, tax policy will continue to be a live issue into 2018 and beyond, including at Arts Advocacy Day. There will be a number of "technical corrections" that will need to be made, along with further opportunities for tax provisions in other areas of legislative work.
Thank you for standing with us in this fight to #ProtectGiving. Weigh in now!
Want to share this story on your social media? Use this link!