Greetings,
I am asking Massachusetts artists of all disciplines to take the "By Artists, For Artists Survey" and to help spread the word across the state. The survey closes on November 1st.
If you have taken it already- thank you! Please continue to spread the word to other artists of all disciplines in the Commonwealth.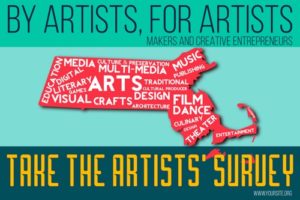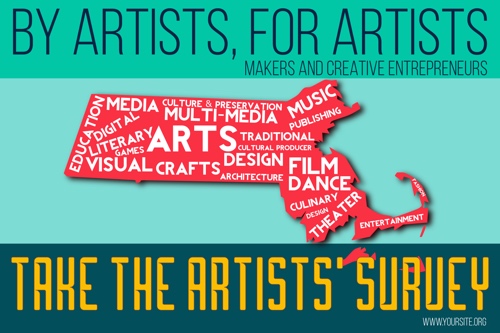 The data from this survey is critical for the Massachusetts Artists Leaders Coalition (MALC), the Massachusetts Cultural Council, and policy makers on all levels to be able to do the work and advocacy we do for the artists community. I can not stress enough how important the answers are to the survey's health care questions at this time (given all that is occurring on a national and state level on health care reform).
Help us to better advocate and help our community, by taking the survey and/or promoting the survey to others.
http://www.artistsunderthedome.org/census.html
Also please come and spread the word about the 11th annual Artists Under the Dome event on November 8th at the Massachusetts State House. At that event MALC will be sharing some of the highlights from the survey. See our recent press release describing the event in detail!
Here is the link for more info and to register for that FREE event:
http://www.artistsunderthedome.org/annualevent.html
Thank you for taking the survey- it is critical for our advocacy efforts.
Sincerely,
Kathleen Bitetti
artist & cofounder of MALC