1. Tuesday, April 17, 2012, 7 to 8:30pm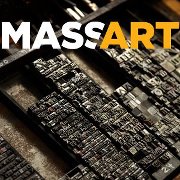 HOW TO ENGAGE!
PANEL DISCUSSION to discuss strategies for how to engage with policy makers, arts and non-arts organizations, and communities.
MassArt- Room: North 181
Free & Open to the public
Panelists include: Henry Barrett, Office of State Representative Smitty Pignatelli and cochair of the State House Cultural Caucus; Kathleen Bitetti, artist & co-founder of Massachusetts Artists Leaders Coalition (MALC)/ ArtistsUndertheDome.org; Shannon Erwin, artist & state policy director for Massachusetts Immigrant & Refugee Advocacy Coalition (MIRA); Cecilia Méndez, artist & Director of the Center for Art and Community Partnerships, MassArt; and Mario Quiroz, photographer.
(Please note panelists subject to change)
More info: aboutandengaged@gmail.com
2. Thursday, April 19, 5 – 9 pm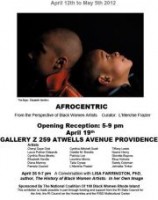 Opening: "Afrocentric: The Perspective of Black Women Artists"
curated by L-Merchie Frazier
Gallery Z
259 Atwells Avenue
Providence, RI
3.  Saturday, April 21, 5:30 – 8pm
Medicine Wheel Productions' Spoke Gallery presents: Then and Now, a three person exhibition of work by internationally known South African artists Sophia Ainslie, Illona Anderson, and Paul Stopforth.
Please join us on Saturday, April 21st for the opening of this great new exhibit! A gallery talk will be held at 5:30 PM with a reception following from 6-8 PM.
The three artists were originally based in Johannesburg, South Africa, but now call the Greater Boston area their home. Although they share a deep connection to each other through their mutual ties to South Africa and the antiapartheid movement, this is the first time they have exhibited together. For more information please visithttp://mwponline.org/wordpress/?page_id=682