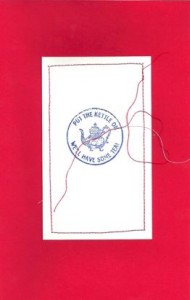 Visual artist Kathleen Bitetti will be holding conversation hours on Friday afternoons in August from 2 to 4pm at the Massachusetts State House's 4th floor Cafe  and on Saturday, August 11th at Gallery Kayafas from 1 to 5pm.* 
These conversation hours are connected to her role serving on the State's Creative Economy Council and are part of her contribution to the 2012 London Biennale. Those who attend will be given a memento for taking the time for "Tea taking for business and pleasure".
For more info and/or rsvp on Facebook:
State House Teas:  http://www.facebook.com/events/415863975126545/
Gallery Kayafas Tea:  http://www.facebook.com/events/327495700675441/
 or email: timefortea2012@gmail.com
Special thanks to the Berwick Research Institute, Gallery Kayafas, Henry Barrett, and Sophia Solar Michalski for their support of this project.
*The State House and the 4th Floor Cafe are open to the public. There is no admission fee to visit the State House – but  members of the public will have to go through security check (ie metal detectors) before they enter.
Gallery Kayafas is located in Boston' s South End Gallery District at 450 Harrison Avenue (02118).
**These conversations are a continuation of a project Bitetti did for the 2010 London Biennale "Tea Time" , in London, UK.