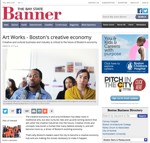 MALC got a shout out in the Bay State Banner for our work to establish the Greater Boston Creative Economy Network with the City of Boston.
MALC is the co-lead with the City of Boston on the CEN application. The Creative Economy is a key area of advocacy for MALC on local, state, federal, and international levels.
Kathleen Bitetti, one of MALC's cofounders, serves on the Massachusetts Creative Economy Council, on behalf of MALC, to advocate for Massachusetts artists of all disciplines and for artist-run businesses & organizations.
Burros and Barros … (are) co-chairing The Greater Boston Creative Economy Network, which will pool the brainpower of leaders throughout the metropolitan area, calling, too, upon organizations such as the Massachusetts Artists Leaders Coalition to think about ways that the region can best support the growth of the creative economy.

~Bay State Banner, May 21, 2015