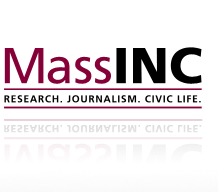 On Wednesday, Oct. 17, 2012, MassINC, together with founding sponsors, members, fellows, and public officials, today announced the creation of the Gateway Cities Innovation Institute, a new center dedicated to the revitalization of former manufacturing centers like Springfield, New Bedford and Lowell that have both enormous potential and a disproportionate share of the state's social and economic challenges. With dedicated resources and a state-wide network, the Institute works to restore these historic cities to their roles as engines of regional economic growth and escalators to the middle class.
"Gateway Cities are working hard to reinvent themselves amidst a shifting economy that has left them behind," said Greg Torres, President of MassINC and Publisher of CommonWealth magazine. "The Gateway Cities Innovation Institute provides the focus, resources, and network-building capacity needed to give lift to the transformation these cities are undertaking. We look forward to getting down to work with the impressive and growing list of Institute fellows who have signed on from every sector across the state."
We urge all artists to read the full press release, then download and become familiar with the Gateway Cities Fellows (PDF, 7.1MB), the people who will developing important resources in your communities.
MALC will be closely following the Gateway Cities Innovation Institute's initiative. Check MALC's blog for updates.