For Immediate Release
Contact:
John Weeks
Massachusetts Artists Leaders Coalition
Download Press Release here (.pdf)
2/10/14
Massachusetts Artists Leaders Coalition Releases Arts, Culture, And Creative Economy Policy Recommendations For Mass. Gubernatorial Candidates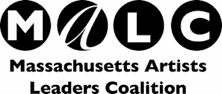 Boston – The Massachusetts Artists Leaders Coalition (MALC) released its arts, culture, and creative economy policy recommendations (PDF) for the state's gubernatorial candidates today. These recommendations are the culmination of policy work MALC has done since 2008. See the MALC blog for complete details.
"The MALC Steering Committee has been crafting this white paper since November 2013," said Kathleen Bitetti, artist, MALC co-founder, and steering committee member. "I think I can speak for the entire committee in saying we are very pleased with the final result as it offers an extensive and in-depth mapping of the issues facing our sector. Our collective hope is that the candidates will reference this paper when crafting their own policy platforms."

"I believe that we here in Massachusetts have the opportunity to help mentor candidates as they begin to build out their creative economy platforms," said Ja-Naé Duane, artist, MALC co-founder, and steering committee member. "These are guidelines that can be used for any platform, from local to national. It is MALC's belief that we are setting an example for the nation and we will continue to lead the charge."
MALC, an all volunteer effort, works to ensure that Massachusetts artists of all disciplines have a voice in public dialogs, decisions, and key public policy initiatives that impact the artists' community and the creative economy. MALC works to ensure that artists have a permanent place at the policy making table.
MALC does not endorse candidates for political office. It is MALC's hope that all of the candidates for governor will review MALC's recommendations while crafting their arts, culture, and creative economy policies.
Download a PDF of this press release.